(Disclaimer: This article has been written based on the report by Hindenburg Research on the Adani Group. All facts, disclosures, observations and allegations presented or mentioned in this article are taken from the same report.)
Adani vs Hindenburg
We often hear stories about how zealous entrepreneurs turn dust into gold through their hard work over years. Such messiahs not only serve the well-being of society but also inspire many generations ahead. And then, we also hear stories about how greedy entrepreneurs turn gold into dust through fraud and corruption. Such rogues send a shock wave across society and lead the entire economy into turmoil. We are not sure whether our story today is of the first type or the latter! A short-seller in the United States is claiming that an Indian entrepreneur is pulling out the largest con in corporate history. This is something the general public has been blabbering about for a long time, while the authorities have completely turned a blind eye to it. While many wish to unearth the truth, it's a dark dilemma that only leads to their own destruction!
Hindenburg Research, an American short-seller, has claimed that the Indian business magnate and world's third richest man – Gautam Adani, is pulling the largest con in corporate history through his enterprises – the Adani Group. The Hindenburg has been, thus far, confident about their two-year-long research and has presented a long list of questions for the Adani Group to clarify and showcase transparency. Meanwhile, the Adani Group has outrightly rejected the claims and has threatened to file lawsuits. Bollywood might have failed to feature a good movie in recent times, however, this tussle is going to be one hell of an entertainment show. So grab your popcorn because, in this article, we are going to explain the plot of this story, so that you can catch up with the rest of the show, as it progresses. This is the story about the third richest man on the earth, sorry, the sixth… no, the seventh richest man at the time of writing this article; wait, please check the rankings once again when you are reading this. But hang on, before you get too excited, do keep a tab on your investments as well, otherwise, the climax might turn into anti-climax for you! The Adani group is so huge that its fall would devastate the entire economy. This might be the 'Lehmann Brothers' moment for India.
About Hindenburg Research
Hindenburg Research LLC, a New York-based financial research and investigation firm, is known for identifying and exposing fraud and other financial misconduct in public companies. The firm was founded in 2017 by Nate Anderson and Daniel Yu and is known for its in-depth investigations and detailed research reports on publicly traded companies. The company's name originates from the 1937 Hindenburg disaster which the founders characterize as an avoidable man-made disaster. Before forming Hindenburg, Anderson worked with Harry Markopolos who flagged Bernie Madoff's Ponzi scheme and led to an investigation of Platinum Partners, a hedge fund that was charged with fraud worth USD 1 billion. In recent years, Hindenburg Research has published several high-profile reports on companies such as Tesla, Nikola, and Shopify. These reports have often been critical of the companies and their management, and have led to significant declines in the companies' stock prices. Interestingly, the research firm is also known as a 'Short-seller' and usually takes a short position on the stocks and publicly declares the same, along with its research and reports. In September 2020, the company released a report about Nikola which debuted on stock markets in June 2020 with valuations soaring to USD 34 billion, surpassing even the giant Ford Motors. The same company is now worth USD 1.34 billion following the revelations in the report and the legal repercussions that followed. In the past 3-4 years, the company has released about 30 reports and the average stock price decline after its report is 15%. Therefore, it's important to take their reports with a grain of salt. Also, an important disclosure here is that the company has been accused of sourcing information from large funds and serving as a front for their short traders, and is currently being investigated by the Department of Justice (DOJ) in the United States.
Allegations in the Hindenburg Report
Hindenburg has raised some serious concerns in their report on the Adani Group. In their own words, they have "uncovered evidence of brazen accounting and bookkeeping fraud, stock manipulation and money laundering at Adani", and have also alleged that "Adani has pulled off this gargantuan feat with the help of enablers in government and a cottage industry of international companies". The allegation that shocked the investors the most was that "Indian securities regulator SEBI seems more inclined to protect the perpetrators than punish them." Here are the key observations and allegations made by Hindenburg Research in its 31,000-word report –
Mysterious growth – The Adani Group has seen a gravity-repealing surge in its stock price over the past three years.
Overvalued stocks – The listed companies of Adani Group are overvalued by more than 85 per cent where most of these companies are in the infrastructure business where growth is low and slow.
High leverage – Adani Group is heavily leveraged owing to huge borrowings and debts as compared to the industry. It is alarming that the cash flows are negative in four of its entities and the current ratio is below 1 in five of its companies. The Adani Group has also breached debt terms and obligations on multiple occasions.
Pledging by promoters  – In addition to the high debts of the companies, the promoters' have also pledged their holdings to raise more financing.
Control by family – Of the 22-member leadership team, 8 people are from the Adani family and are placed in some key roles in the companies. Meanwhile, Gautam Adani, a school dropout, is chairman of 6 out of the 7 major companies. Thus, the business of the group is closely held by the Adani family and it is more like a family business rather than a publicly held entity.
Corruption and money laundering – Adani Group has repeatedly faced allegations of corruption, money laundering, and theft of taxpayer funds of an estimated USD 17 billion, however, "investigations have been either stalled or stonewalled by various arms of the India Government".
Accusations against the family – Rajesh Adani, Gautam Adani's younger brother, was previously arrested twice for customs tax evasion through forged documents and for illegal imports. He is still the Managing Director of Adani Group. Meanwhile, Samir Vora, Gautam Adani's brother-in-law, has been accused of being "a ringleader of a diamond trading scam". He is currently, the executive director of Adani Australia. Also, Vinod Adani, Gautam Adani's elder brother, "operates a vast empire of shell companies" that channel funds to Adani Group companies. Though it has been claimed that Vinod Adani is not involved in the Adani Group, it is alleged that he actively manages the group's affairs in Dubai.
Stock parking entities – Entities such as Monterosa, Elara Capital, New Leaina, and Opal investments have created offshore funds and shell companies that own a majority of the public shareholding of the Adani Group. Most of these offshore foreign funds are registered in Mauritius, do not have any meaningful web presence or any marketing material, have no mentions in the news and interestingly have invested in Adani Group stocks only and have maintained their holdings despite extreme

volatility. The ownership of these funds is unknown, and it is suspected the same belongs to the insiders. These entities account for 30%-47% of delivery volume in Adani Group stocks. Now, Adani Group's promoter holding is already close to the 75 per cent mark, the maximum allowed by the Securities and Exchange Board of India (SEBI) to protect the interests of the minority shareholders. As per rules, a company can be delisted from the Indian stock markets, if the promoter holding is more than this limit. It is suspected that the secret holdings along with the disclosed ones together exceed the maximum permitted, and thereby, allowing circuitous trading, manipulation of stock price and abuse of the minorities. In Right to Information (RTI) replies and replies to parliamentary questions, the Government has mentioned that an investigation on the same is going on.
Track record of stock rigging – Adani Group has been involved in various stock market scams and frauds, something that has been overlooked by investors and analysts. In the 'Ketan Parekh Scam, 2001' charges were also levelled against Adani promoters for aiding and abetting Ketan Parekh. Seven promoter companies were banned from stock markets for two years, however, later the same was settled and reduced to fines. Later, the SEBI alleged that 34 brokers, sub-brokers and clients had colluded in 2003, to carry out synchronized reversal trading or fictitious trading of Adani Enterprise, resulting in a 128 per cent spike in share price. Similar trades happened in 2004-05 as well, resulting in numerous fines and sanctions. It is also suspected that Ketan Parekh who shifted his operations to London after being served a 14-year ban from stock markets, remained active in stock rigging until 2010. Allegedly, his daughter's LinkedIn profile reads 'Researcher, at Elara Capital'.
Round tripping of money – Adani Group's seven key listed companies have 578 subsidiaries, of which, many are listed in Cyprus, Mauritius, Panama, Singapore and the UAE, and the same were engaged in 6,025 disclosed related party transactions during FY 2022. It is suspected that Vinod Adani who is not actively involved in the operations of the Adani Group, runs a vast network of shell companies that transact with Adani Group companies. It is estimated that Vinod Adani has set up at least 38 fictitious companies in Mauritius. A few Adani Group executives were also found to be directors of these companies. To cover their shell nature, the websites were built for 13 companies on the same day using the same template and the same vague business description. Although Vinod Adani and other executives are directors in these companies, these transactions have not been reported as related party transactions. All these companies have lent money to the Adani Group entities where the source of this money is unknown as these companies do not have any offices, operations or employees. These companies have also been used to record loss transactions to ensure higher reported profits in listed entities. Similarly, various other suspicious transactions have also occurred where the money goes out of the company. In short, money from fictitious unknown sources is being pumped into the companies and similarly, also being pumped out, to round trip the same.
Absence of financial controls – In a large conglomerate there are several checks and balances through company executives and auditors who prevent financial lapses in the company. However, in the case of all Adani Group enterprises, there is an extensive turnover of its CFOs. More shockingly, the independent auditor of Adani Enterprises and Adani Total Gas, two complex listed high-profile companies with numerous subsidiaries, is a small firm named 'Shah Dhandharia & Co Chartered Accountants' consisting of 4 partners with 11 employees. This firm's Chartered Accountants who signed the financials were merely 23 and 24 years old when they first audited these companies. Other entities of Adani Group are audited by reputed Big 4 firms such as Deloitte and EY, however, have received negative comments in their audit reports. EY has provided a qualified opinion in the audit report of Adani Power for FY 2022, mentioning material weaknesses in internal financial controls and has also mentioned that the Mundra Power Plant's net worth was completely eroded due to losses.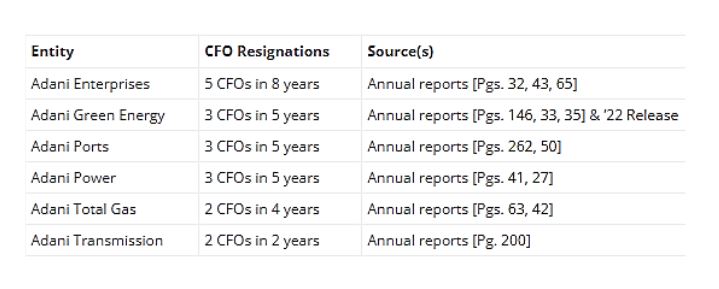 Scandals and investigations – The Adani Group has been involved in several scandals and "a key source of Adani Group's early cash inflows stemmed from misappropriation of taxpayer funds, siphoning from listed companies and corruption". However, despite detailed investigative records, "every government action has either been stalled, stonewalled or dismissed by other arms of the government." Between 2004-2006, the Directorate of Revenue Intelligence (DRI) had alleged that Adani Enterprises was involved in circular trading of diamonds to claim INR 6.8 billion in illegal export credits. In 2013, the customs levied several fines on Adani Enterprises and others involved, however, in 2015, the tribunal completely overturned the decision. Between 2006 to 2010, Adani Enterprises exported huge volumes of illegally mined iron ore, as per a report by Kanataka State. The investigation accused Adani Enterprises of corruption, however, the investigations were stalled so many times that the Supreme Court judge resigned in protest, over the unwillingness of the Government. In 2014, the Directorate of Revenue Intelligence (DRI) alleged that Adani Power subsidiaries over-valued the import of its boilers, generators and turbines which were zero-rated or low-duty imports, to siphon money abroad. Imports were shipped from China, however, billed from Dubai after inflating the prices of such imports. Another reason for overvaluation was the energy tariff calculations which included return on investment as a criterion. Similarly, coal shipped from Indonesia was invoiced by a group entity after overvaluing the same. The inflated costs resulted in higher tariffs and therefore, generated higher revenues for Adani Power which consumers suffered by paying electricity bills. Despite having overwhelming evidence, the DRI investigation was shelved by DRI three years later. The practices continue to date, as Adani Transmission awarded a coal import contract in 2019 to a company whose Director is also the Managing Director of Adani Wilmar (Singapore). The unrelated company has also lent money to Adani Group enterprises.
Absence of analyst reports – The broker research coverage for Adani Group stocks, except for Adani Port, is severely low as compared to its peers of similar market capitalization.
No investment by Mutual Funds – Adani Group features on various domestic and overseas indices and yet all active mutual funds have steered clear of it. Adani Green, Adani Enterprises, Adani Total Gas and Adani Transmission do not have any shareholding from active mutual funds, above 1 per cent, despite the size of these companies and the staggering returns it has given over the past few years.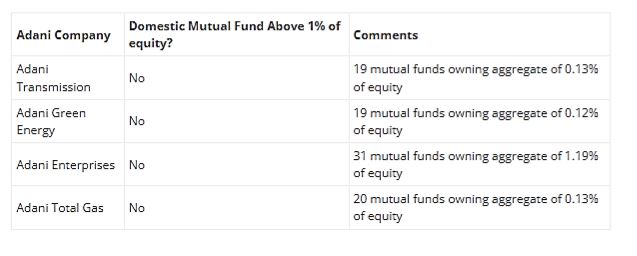 Shutting down critics – Adani Group has been long known for shutting down its critics through power and money. In 2017,  Adani Group launched a series of legal actions to jail a leading Indian investigative journalist who wrote a series of articles about alleged tax evasion by the Adani Group. In 2020, when Adani Group was criticised on social media over environmental issues relating to the Australian coal project, Adani Group wrote to the law minister to investigate the planned negative tweetstorm. In 2021, the conglomerate also sought a gag order against a Youtuber who published a video criticising the company. It is also alleged that the Adani Group attempted to raid an environmental protestor's home in Australia, and had a private investigator follow him. It is unnatural for a conglomerate of Adani's size to take up a fight with individuals and bully them.
Adani Group's response
The Adani Group has used the classic method of denial and threat.
In its media statement, the Adani Group has termed the report as a "malicious combination of selective misinformation and stale, baseless and discredited allegations", and also a "maliciously mischievous, unresearched report". The conglomerate has also called the Hindenburg team "Madoffs of Manhattan" and the report "a calculated attack on India" bringing in the trending notion of nationalism in a rather corporate tussle. The Hindenburg team was quick to reply and responded with "Fraud cannot be obfuscated by Nationalism." It has also stated that the Adani Group has given a bloated response to the allegations raised, leading the focus away from substantive issues.

The conglomerate has also questioned the timing of the report, as it was released just a few days before the mega Followon Public Offer (FPO) of Adani Enterprises. The company is headed to equity markets to raise INR 20,000 crore through FPO, the largest ever in India, offering its shares at a comfortably lower price band of INR 3,112 to 3,276 apiece, as compared to its stock price at the time of announcement. However, by the time FPO opened, the price had already fallen to 2,800 levels.

Adani Group also responded with a "413-page response to the 106-page report of Hindenburg Research" – that's what most news headlines read the next day, giving an appearance of a detailed elaborate response to each of the 88 questions raised. However, pages 1 to 26 are merely general information about Adani Group to showcase power, while pages 55 to 413 consist of 11 annexures containing legal rulings which are usually lengthy documents and already available in the public domain. Thus, the actual response was from pages 27 to 54 i.e. 28 pages which also requoted the questions. These responses too were limited to a few sentences, after clubbing several queries together, and mostly consisted of denial and dismissal, or distraction if the first two weren't the option.

The language of the Adani Group's responses has been so animated that it didn't give the impression of a corporate response, but more of a political speech. Given the stature of Adani Group, it could have easily hired the services of large professional firms such as McKinsey, BCG, Deloitte or EY to develop a response which would have carried a professional weightage too.
The way ahead
Hindenburg Research has placed an excellent report in the public domain with allegations backed by substantial evidence, however, for the Indian public it is no big news. SEBI has reportedly taken note of the report and is making advance moves to counter the stock market disaster, however, the investors' faith in the regulator has already eroded. Over the years, people have already developed a perception of the Adani Group and its activities from the various scandals and investigations. It's almost like people already know everything and Hindenburg's report now merely provides some written evidence for the same. Auditors qualified the reports, analysts refrained to comment, mutual funds steered clear from its stock and even the retail investors were suspicious all the time – it seemed like a ticking bomb that was about to burst someday. However, little did we know, that at the same time bomb would be wrapped as a gift and sent back to us. Adani Group has huge borrowings from the banks and if the group falls, the lending banks too will fall and so will the entire financial industry through a domino effect. LIC India, the largest insurance company, which holds the precious savings of common citizens, is heavily invested in the Adani Group, and the fall in the stock prices of Adani Group also means a dip in the savings of common people. While active funds managed to stay away from Adani Group, passive mutual funds, ELSS and retirement-based funds usually invest based on indices and therefore, would be affected by the prices. The Government which has lent a hand to the conglomerate would also be questioned and therefore, political instability is also in the picture. However, the biggest impact would be on the infrastructure, as the Adani Group holds some of the key strategic assets of the country – ports, mines, airports, roads, railways, highways, metro, warehouses, thermal, solar and wind power plants, electricity and gas distribution networks, data centres, etc. It is hard to imagine the country coming out of this disaster without hurting itself – if the Adani Group doesn't survive this, it will be our loss, and if it does, it will still be our loss! The political unwillingness over the past decades has all come back to haunt us today. Will the Government act this time, or dig another grave and bury it deep once again?